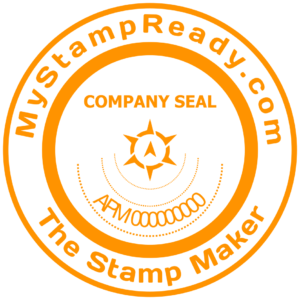 Orange stamp with a six-pointed circle from MyStampReady. Multifunctional stamp editor for businesses and IEs.
Orange stamp with a unique hexagon by MyStampReady editor.
Today, every firm that legally conducts its economic activities possesses
several seals
. Stamps are required to enhance a firm's status in the eyes of clients and business partners. Also, the presence of a stamp is mandatory in special situations, for example, if the firm wishes to apply for a loan from a banking institution. This stamp is made in orange. The outer border of the stamp has the usual thickness, which is a solid line. In the upper area of the stamp is the network address of the company. At the bottom of the stamp is the name of the company. The border of the circle inside the outer circle is a thick solid line. In the upper area of the inner circle is the inscription
COMPANY SEAL
. In the center of this circle is a circle with 6 protrusions. The border of this small circle is not continuous, containing breaks. At the very center of the circle is a triangle pointing upward. Three arcs diverge from this circle to the lower side. The 1st arc has a small radius, the 2nd arc has a medium radius. The 3rd arc has the largest radius. The arcs consist of small points. Additional information about the organization is written between the 2nd and 3rd arcs. You can
make a stamp
that meets your company's requirements in the
MyStampReady tool
.
Date of publication 2020-07-26