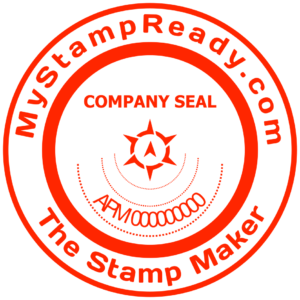 The stamp is stamped by capturing part of the word indicating the position of the employee who signed the paper. You can't put a stamp on the personal signature of the manager, thereby closing it. In addition, the stamp cannot be placed on the transcription of the executive's signature.
The red six-pointed stamp with lots of customization of organization stamps.
Some types of documentation provide for a special place to
place the stamp
. Such place in the document is marked with the inscription "MP" or "Seat of the seal". Such marks are typical for documentation related to accounting, for example: - payment orders; - cash receipt vouchers; - invoices. Also special places for stamps are found in personal documents of citizens, for example, in employment records. The stamp under consideration is made in an orange shade. The border of the outer circle is of medium thickness. Immediately after it comes a sector, at the top of which is written the network address of the company. At the bottom of the sector is the name of the organization. The border of the inner circle is thicker. It is followed by a sector with the
COMPANY SEAL
inscription at the top. In the central part of the sector is a circle with a border torn in several places. The circle has several protruding triangles. In the center of the circle is another triangle. From the circle, there are 3 arcs, consisting of small dots. Between the center and the lowest arcs are additional information about the company.
Date of publication 2020-07-26