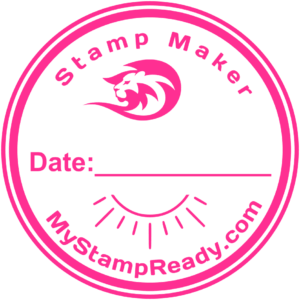 A stamp is needed to give legal significance to paper. It confirms that the official's signature is authentic.
The pink lion stamp with multiple settings in the multi-functional stamp editor.
The stamp is used to certify both personnel documents and accounting documents: - instructions; - registers; - estimates. In addition, through the stamp can be replaced by the constituent documents of the company, collective agreements, various contracts. Also a stamp is placed in the employee's work book in the following situations: - initial execution of the document - the stamp is put on the title page; - Change of personal information about the employee - the stamp is put on the inside of the cover; - dismissal of an employee - the stamp is put after the record about dismissal in the subsection of information about the work.
This stamp
has a pink color. The outer border is followed by a non-broad empty sector, then a circle. The border of the circle has an increased thickness. Inside the circle, in the upper part is written the name of the company. The internet address of the company is written in the lower part. Under the company name is an image of a lion. In the center is a Date inscription and a line. This line should indicate the date of approval of the documentation. Under the line is a semicircle, from which several lines diverge. This makes the figure resemble the sun.
Date of publication 2020-07-15