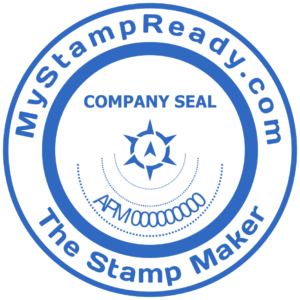 All company stamps are subject to accounting. Information about where a particular stamp is located, to whom it has been provided, is indicated in a special journal. Since this journal contains impressions of stamps and signatures of the employees responsible for them, it is filled out by hand.
Blue stamp with the internet address of the organization and the company name from MyStampReady
In some cases, the stamps leave the firm for use, for example, at a meeting with the counterparty, following the results of which immediately draw up a protocol of disagreement to the agreement. The employee going to the meeting, must take the stamp with him. This fact, as well as the return of the stamp is subject to recording in a special journal. The stamp in question is blue in color. The outer border is quite thin, followed by a white sector. The top of the sector includes the network address of the organization, the bottom - the company name. The inner circle has a thick border. The sector inside the circle is inscribed
COMPANY SEAL
at the top. At the bottom is written additional data about the company, there are 3 arcs of small dots. In the middle of the circle is a circle with 6 protruding triangles. In the center of the circle is another triangle.
Date of publication 2020-07-26