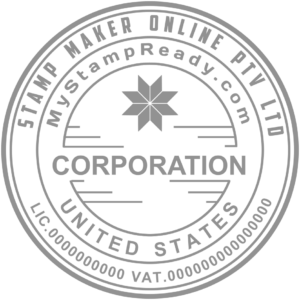 A stamp is essential for almost any modern company. The stamp is typically used to provide additional authentication of papers. It is used in conjunction with a signature. Some documents have special notations indicating where the stamp should be put. In other papers, the stamp is placed near the position of the authorized employee and his signature.
The gray stamp with the CORPORATION inscription and the eight-pointed stamp from MyStampReady.
The stamp
in question has a gray tint. It consists of several circles. The outer circle has a thickened border. Inside the 2nd circle is the name of the company. At the bottom of the 2nd circle additional information about the company is written. Inside the 3rd circle is the Internet address of the organization. At the bottom of the 3rd circle is written the name of the state in whose territory the company operates. The 4th circle has two gaps in the left and right parts. In the middle of the circle is written CORPORATION. At the top of the circle is an octagon. The central part of the octagon includes a small empty sector. There are 6 lines of different lengths near the gaps in the circumference of the circle.
Date of publication 2020-07-26