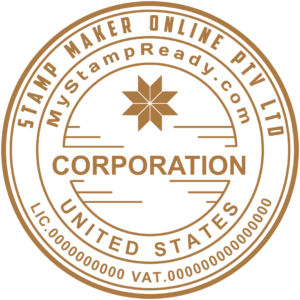 Signature stamps in a round form with the company logo on the top and inscription in the middle created by the stamp maker online from MyStampReady. You can try on any color for your design using this online stamp design tool. You can do it all for free.
You can choose from a wide range of colors in our world. Completely free you can choose the one that is necessary for you
The
online delivered stamp designer
offers you to create the layout of a cherished seal, which is of great value to any company. It can be presented in different color shades: gold, silver, blue, green, red, orange, blue, yellow and many others. It all depends on you personally (or your manager): what is the purpose of the
stamp on the documents
, what exactly will be placed on it and so on. If you go the classical way, in the middle harmoniously inscribed the name of the corporation / holding company / organization - in small or large print, again, depends on you. Above the name - a logo, widely known in large or not so large rows. Delivered stamp, by the way, you can make a little larger than the name (but this is provided that he is "in sight"). Even lower, the name, patronymic and surname of the general director of the holding, or the one who "laid the first stone" in this whole labor history, is indicated. The entire seal can be separated by several small circles. There can be two, three, four, five, or none at all. They can be separated by a dotted line, a solid line, a wavy line, or something else. In them, you can enter the name of the
online constructor
, which
created the stamp
, the address data of the company (index, actual location, contact phone number), various details of the corporation. In case there are empty spaces, which obviously "cut" the eye, there is a huge range of ready-made elements at your disposal.
Date of publication 2020-07-26