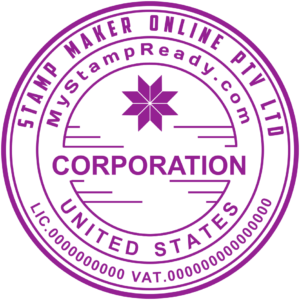 Convenient in every respect, the site of the organization, will help you quickly enough to build a stamp, trying on a lot of different outfits. In the end, produce a milked version of the stamp.
The program allows you to create in 60 minutes, from the proposed options
With the help of a special online generator
MyStampReady
, any organization can come up with / build and release in its internal use, any stamp. Without it can not do any signing of a variety of business documents, deals, contracts and everything else. For solidity and reliability, most often a strict black color is chosen. But in general, the "artist" has at his disposal a huge color palette of save the
date stamp
: green, blue, red, yellow, orange, blue, purple, and others. As is usually the case, the full name of the corporation, with its head (founder or CEO) is written in the center or slightly above: the surname, first name and middle name are written in full. This can be done in large print, medium, or very small. All of this is at the customer's discretion. Usually, above all this placed an emblem / logo, which are of great importance to the company and represent a kind of "face". A big advantage of using this web program is its availability and free use. As for the first plus mentioned, on the first request in the search box, the World Wide Web gives the desired result and you are directed to the official site. The second positive aspect has a huge impact on people actively looking for the right firm to
design seals
. After all, organizations that are just starting out have little financial wealth and spend a lot of money on stamp design - not always ready.
Date of publication 2020-07-26