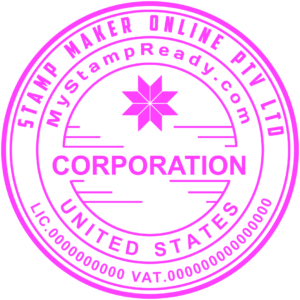 A stamp is a must for virtually every organization. It serves as an additional confirmation of any actions performed on documents and is usually used together with a signature.
Pink round stamp with an eight-pointed star with flexible stamp settings.
The stamp in question has a pink color. The outer border of the stamp is very thick. There are no inscriptions or images between the 1st and 2nd borders of the stamp. There are 2 inscriptions after the 2nd border. One of the inscriptions is at the top, the other is at the bottom. After the 3rd border in the upper part of the sector there is the address of the company website. At the bottom of the sector is the name of the state in whose territory the company operates. The central circle contains 12 lines. 4 of them are of short length, 4 are of medium length. Another 4 lines are elongated. The central circle does not have a solid border and contains gaps. The breaks are located in the left and right parts of the circle. The 12 lines indicated are located directly near these gaps. The name of the organization is written in the center of the circle. At the top of the circle is an eight-pointed star, with a small circular sector in the center.
Date of publication 2020-07-26