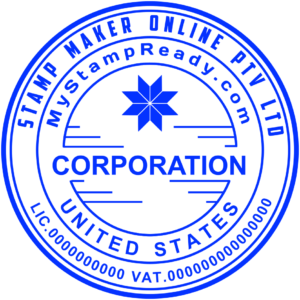 Web-constructor, recently created and released for wide use, allows everyone to choose the necessary variant for the release of the future print absolutely free of charge
One of the only possible programs that allows you to apply your ideas in electronic format
"
MyStampReady
" program is the ideal solution for those corporate executives (or their deputies) who are in the process of deciding on a purely corporate
stamp template
appearance. The
online designer
will help you in this matter: without leaving the room, you will be able to thoroughly analyze the proposed variants of each employee who proposed his own version of the
company seal
. There are all conditions for this: somewhere to make the font larger, somewhere shallower. Insert the logo on the left side, or the right. The circle is divided by one diameter or two. With the help of a dotted or solid line. All of this you can safely try without having to rush anywhere: without thinking about time or money. After all, this is a completely free application. Standard, the emblem symbolizing the activities of the organization should be placed in the very center (or slightly above). Underneath it is the name of this association of people. In the separated diameters, usually the official website and/or contact number of the hotline (in extreme cases - call-center) is indicated. At the discretion of the creator (customer) it is possible to make not two diameters, but one (place in it the name of the company that designed the
stamp template
; or, alternatively, the postal code and the actual address of the organization itself). In addition, some people write the full name of the CEO or founder of the holding company all around the circumference. There is a wide choice of colors - from dark green to bright blue.
Date of publication 2020-07-26