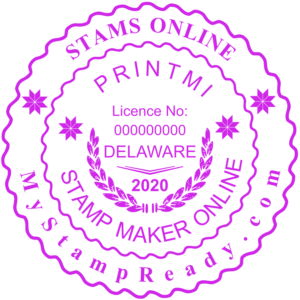 This platform allows you to try on the brightest, most colorful and sometimes, at first glance, unrealizable ideas, options and suggestions on the original form of printing
This program is perfect for those who haven't yet decided what their final print looks like
An elegant, beautiful custom wedding stamp can be created for free, quickly and reliably on the "
MyStampReady
" website. The
online designer
allows you to try out all the solutions in your mind and put those dreams into electronic form. After making the final decision - to transfer the created layout into reality and present it to your colleagues. This print is made in a very unusual, one might even say non-standard format - its shape is not round, as it always is, but wavy. At the top, according to the classics, you can place the emblem / distinctive sign of the company for which this masterpiece is made. Under that, just below, the name and, for example, the year it was founded. At the very bottom, the maker of the stamp should be inscribed. Another option of
custom wedding stamps
- in the center a huge logo and the time of its foundation are depicted, and on the circumference, separated by a solid line, clear, even (you can even use a bold stroke) letters are inscribed in full name, middle name and surname of the founder or CEO, which is at the time of the stamp, the head of the company. The program allows you to try on a created layout of different colors. For example, for a clear "severity" should be applied dark colors (green, black, purple), for a kind of smoothing the information on the seal - light colors (yellow, orange, blue, and even red). In addition to the above-mentioned aspects, the web application has a unique set of previously prepared logos, emblems, various elements that can somehow come up when
creating seals and stamps
.
Date of publication 2020-07-17