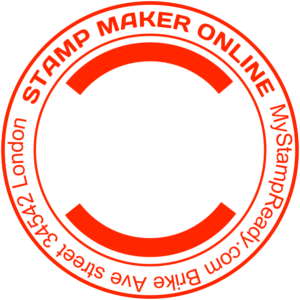 Using this online designer, every user has a once-in-a-lifetime chance: the opportunity to design their own version of a future stamp. You will not be disturbed by people around you and can fully immerse yourself in this mysterious world.
Free version of a web-based platform for designing and producing customized seals and stamps
Another important point, which has the Internet constructor "
MyStampReady
" - the design, creation and production of a unique
endorsement stamp
of the reverse actual address, presented in a round form. The so-called "insides" can be absolutely different, at your discretion. For example, you can place in the center, as is customary in reputable organizations, doubled or tripled the official company logo. The year of establishment and/or the first and last name (or optionally - patronymic) of the founder or CEO/Chairman of the corporation at the time of the official stamp can be added to it. On the circumference, again, at your choice, several items can be inscribed: the contact phone number of the company (a single reference set of numbers listed on the official website of the holding company); zip code, consisting of six digits; legal or actual location address (mainly focused on the head office). There is an option, to make two or more circles, separated from each other by different lines - solid / dotted / wavy and many others. In each of them, just can indicate all the necessary and, in your opinion, important aspects of information that has a direct impact on a certain image of the organization. To create such
business seals
is important to treat very seriously, because of them, quite often, depends on the fate of the company. Accurate and detailed writing of all the letters in a certain font greatly affects the outcome of the corporation, for the same signing of securities.
Date of publication 2020-07-17