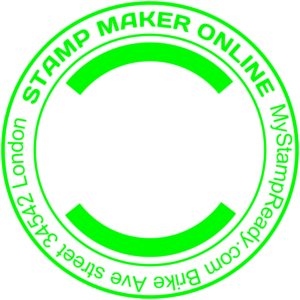 This return address seal can be used by firms, who manufacture their own products in any area of the market. Just like every template on this website, this one can be edited, and its color can be changed. In this description, you will learn everything about this return address stamp with logo in green, and decide for yourself if you need one.
Create your own return address stamp with logo for your business
The represented template is used to give customers the exact return address in case they are not satisfied with the quality of the product they paid for. You can apply it to receipts, payment statements, and documents with info about the order. Its green color stands out against the black text and white background so that everyone can notice it and make out the printed address. Let's go straight to studying this template and looking at each component of the shown ready-made stamp. The central part consists of just two elements, which look like curved rectangles. Of course, our designers left that much empty space for a reason. This template allows you to insert a company logo right in the middle. You can make it bigger or smaller, add text below or above it, etc. Briefly speaking, the sample of such a type gives you absolute freedom of creativity. As a result, you receive the unrepeatable seal design, which will be enjoyed by most clients. Moving on to the outer layer, it is also not overloaded with details. Even though most of our ready-made stamps include dozens of components, this time we decided to stick to minimalism. At the top, you will see the lettering
"STAMP MAKER ONLINE"
, which you can feel free to replace with your brand name. Also, you can notice the long address inscription at the bottom, which is rotated upside down. This is the exact address your customer sends the items back to in case he received a wrong position, or got a product with a defect. Just insert your office address instead, and make a cooperation with you easier for both sides.
Date of publication 2020-07-17