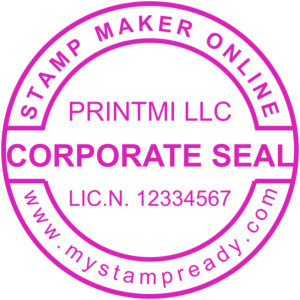 The represented seal template was created for firms, who want to own a rubber or digital stamp of an unusual color. It can be used by sole traders and individual entrepreneurs, as well. This circle custom stamp contains several components, each of which can be edited. MyStampReady offers a lot of features for seal customization.
Customize this violet circle custom stamp using MyStampReady seal editor
It is no secret that all companies need a personalized stamp to use when signing documents, creating agreements, and during other processes connected with paperwork. This
circle custom stamp
is violet, so unlike blue or black seals, this one will stand out in a document. This template is not very complicated in terms of design, so it doesn't take a lot of time to familiarize with. We would like to explain how to personalize this stamp sample and which elements of it should be edited. Let's start by examining the middle unit of this circle custom stamp. It includes 3 titles, which are parallel to each other. The inscription at the top shows the name of a certain LLC, which we'd recommend replacing with your LLC name. The most noticeable lettering is the one that is in bold. "
CORPORATE SEAL
" can be changed to the name of your company because it's the most important piece of information on almost every stamp. The last title stands for the license number. Just erase the number "12334567" and type in your data instead. The external part consists of two hollow semicircles. Each of them includes one inscription. The semicircle at the top has the title "
STAMP MAKER ONLINE
" inside, which can be changed to the specialization of your company. Also. at the bottom, you will notice our website address. You, most definitely, don't want it to be on your seal, so try typing in your official web address instead.
Date of publication 2020-07-17