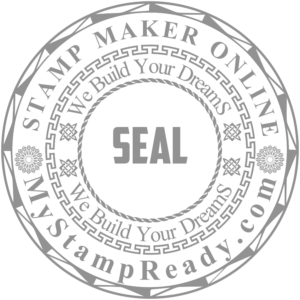 Such a stamp can include the full name of the company, its actual and legal addresses, incoming and outgoing document identifier, and date.
Address printing is used to indicate options for communicating with a company.
The stamp may also include options for electronic communication: - e-mail; - Skype; - Web-site address. Also on the seal can be specified OGRN, TIN, phone number, logo. Peculiarities of the stamp The
stamp includes 3 circles
. The outer circle is the widest, and between its borders are black and white sectors, arranged in staggered order. Between it and the 2nd circle is a white field where the required information is inscribed. On the left and right sides there is a figure in the form of the sun. The 2nd circle is similar to the wall of the fortress in appearance. It is followed by a field, at the bottom and top of which the required data is indicated. In the left and right parts of this sector there are 2 stars each. The inner circle has a boundary resembling a braided rope. It is followed by a white field, in the center of which is the desired inscription of the organization. The entire stamp has a black and white color scheme.
Using the stamp editor
, the user can adjust its radius, width, and line thickness. The service also allows you to change the font size.
Date of publication 2020-07-26