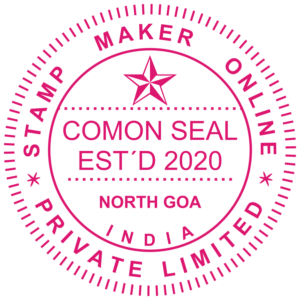 This 2-layered seal template will contain a lot of information about your company because it includes 5 text samples. That's why choosing the right inscriptions is an important aspect. Read this description till the end, and you will find out how to personalize this small custom stamp.
Red small custom stamp designed for offline businesses
Most stamp designs emphasize an attractive composition and unusual decorative elements. Even though the represented seal has almost no embellishments, it still looks complete and can fit a lot of text inside each section. When it comes to customizing a stamp, knowing which inscriptions to insert is the most necessary thing. Let's analyze every element of this
small custom stamp
and sort it all out. In the center, you can see quite a long lettering "COMMON SEAL EST'D 2020". You can erase it and type in your company name and the date of its official establishment. This part of a seal is separated by two thin dotted lines. Above this inscription, there is a small star, which is the only decoration in this small custom stamp design. Another part of the main part is the location. If you want to specify the city where your firm was based, replace "NORTH GOA '' and "INDIA" with the matching city and country. The external part consists of two more pieces of text, which are "STAMP MAKER ONLINE" and "PRIVATE LIMITED". The first one stands for pointing out the specialization of your company, and the other one can be changed to almost any extra info you would like to insert in your custom design. The last piece of this seal is a border, which is made of a vertically striped circle. That's quite an unusual design solution but looks very nice.
Date of publication 2020-07-17