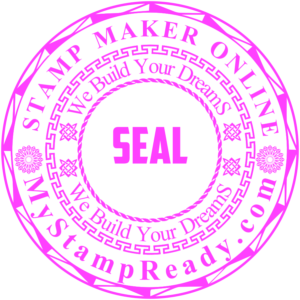 Create a custom embossed stamp with the help of our graphic designer. Get high quality results and clear embossing of your documents and papers. Work online from your laptop or computer.
Work on your design for a pink embossed round stamp with return address for a networking company online
The custom
for deposit only stamp
presented can be used as the best sample for your personal project. If you like the concise and formal style of this
stamp template
, use our
stamp builder
, make the necessary changes and enjoy the excellent result.
MyStampReady
will help you save a lot of time and finances and get a rubber stamp with a date to run your business. This type of tool is a necessary and important part of any company. With such a stamp, you will be able to check various documents much faster, making paperwork easier or avoiding writing a lot of information by hand. The name and address of your own organization is easily inserted. The
round seal
is one of the most popular forms encountered and is actively used by business people around the world. MyStampReady has created a seal maker that waives the restrictions on the number of tools that change this template! Take a look at the basic details used to create this exclusive seal. In the center of the circle is the word "SEAL" written in large letters and the date (day, month, year 2022) is placed here. Note that this inscription is larger than any other text on this layout. If you wish, you may change the information and add your own words and suggestions. The inner circle, as you can see, is not a straight line, but has an original and memorable pattern. The phrase "WE BUILD YOUR DREAMS" is written around for deposit only stamp. You can remove the extra words or replace it with your own logo if necessary. MyStampReady offers a wide collection of images to choose from. We make dreams come true that can make your business a success!
Date of publication 2020-07-26