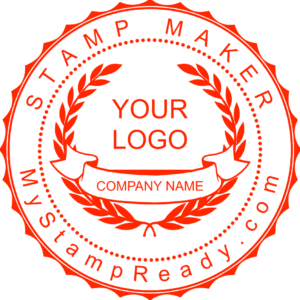 This template allows you to insert a company name, custom logo, and even add a website. The represented personalized wax seal design can be individualized as you want. This way, you will receive a perfect company stamp on the outcome.
Edit this generic seal template and create a personalized wax seal
Even though wax seals are not used that often and are considered outdated, the presence of a stamp of this kind on your product or an official letter can become an original feature of your brand. This is why some firms need to purchase both rubber and wax seals. We recommend having the same print on both seals so that your impression can be recognized immediately. The composition of a company stamp is also crucial. An ideal arrangement of components on your
personalized wax seal
will make it a more effective tool, which will bring your brand a lot of benefits. This is why we would like to familiarize you with the patterns of the template above and explain, which parts of it can be replaced and adjusted. First of all, let's examine the "heart" of a stamp, which is its center. As you can see, our designers inserted two letterings to help us arrange custom components in the best possible way. The inscription "YOUR LOGO" has to be changed to an SVG image of your unique company emblem. Accordingly, instead of "COMPANY NAME" you should type the name of your brand. These two patterns will be enclosed by a red wreath, which symbolizes supremacy over competitors. The wreath in turn is positioned inside a dotted circle. Now, let's examine the external part of this sample. Under the wreath, you will notice our website. Of course, you gotta replace it with your website instead. Speaking of the inscription "STAMP MAKER", it could be changed for a short slogan or even the location of your main office. The border of this personalized wax seal is also very unusual. It's a thick wavy pattern, which makes your stamp look more noticeable.
Date of publication 2020-07-17