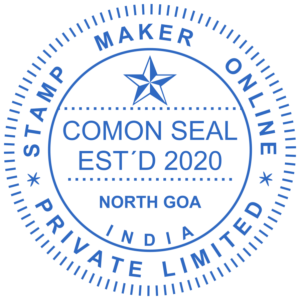 A corporate seal is a tool, which will help you attract new customers and make a boring document more lovely. One of the ready-made stamps, which is stored in the gallery of our stamp maker - India seal template, which you can examine above. It can be modified, and you are allowed to delete or replace the components, as well as add new patterns.
With the help of stamp maker India
This corporate rubber stamp in blue will perfectly fit into a document. It does not stand out from the composition that much, but its unusual design still will be noticed by anyone who reads the agreement or contract, on the pages of which you have left an impression. Let's study the represented seal design in a more detailed way so that we can explain to you the meaning of each element: Let's start with analyzing the central part of the represented seal. There, you can notice three inscriptions: "COMMON SEAL EST'D 2020", "NORTH GOA" and "INDIA". The first one reveals the type of stamp. It is a versatile seal, which may be used by companies, self-employed people, or even delegates. North Goa is a district in India, and as you might have already surmised, these letterings should be replaced with your real location, or the place, where your office is located. "COMMON SEAL EST'D 2020" is detached from the other patterns with a dotted border. On the top, you will notice a blue and white star. This decoration fills the empty space and makes your seal design more authentic. The outer layer is quite simple but still needs some examination. The caption "PRIVATE LIMITED", which is located at the bottom, describes the type of your company, or the sort of contract, which the client is signing. Another inscription,
"STAMP MAKER ONLINE"
, can be changed to a short slogan that will include some important info about your firm. The edge of a stamp is also unique because it was made using short and thin stripes, which make up a circle.
Date of publication 2020-07-17