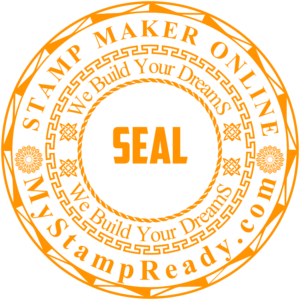 The represented seal emblem is available for customization in the MyStampReady stamp maker. Double-click on the picture, and you will get access to dozens of functions for stamp editing. You can change every component of the template, add new patterns and experiment with the size and color.
Develop a unique orange seal emblem using our stamp maker
The
seal emblem
that you see on the picture above was developed for companies, whose founders or CEOs would like to attract new customers by making them notice your original seal on different types of documents. Its orange color and complicated structure are identifiable among other boring and simple stamps. As a consequence, your seal will stand out from the crowd and your brand will become more recognizable. This stamp template was made with a lot of different components, so let's get straight to examining them. We would also like to give you a couple of recommendations for customizing this seal design. In the very middle, you will notice the title "SEAL". It can be replaced with literally anything. You can delete it and pull out your logo from the gallery instead, or just type in the name of your company. This inscription is enclosed in a thin circle, which looks similar to a rope. Moving on to the next layer, there are two same inscriptions "We Build Your Dreams", and four small decorative elements between them. We highly recommend you to come up with your own slogan and insert it in this section. However, don't delete the decorative elements. They make your stamp look more complete. This layer is fenced by an ornament made of sharp lines and right angles. The outer layer consists of the inscription "STAMP MAKER ONLINE", and our website at the bottom. These titles are separated by two big round decorative items. Of course, you can replace "
MyStampReady.com
" with your own website. Speaking of the first inscription, you can change it to a company name, a short slogan, or briefly describe the specialization of your firm there.
Date of publication 2020-07-26