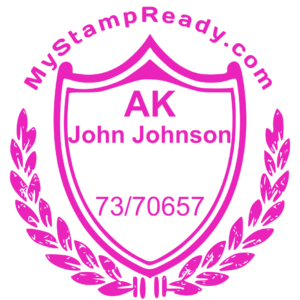 You can modify this cool stamp template using our Stamp Maker. We offer a huge amount of different features that will help you to make the seal unique and appealing, such as adding a logo, changing the inscriptions, changing the stamp size and color, and so on.
Edit this cool stamp with a website address and your initials
The main purpose of rubber or digital seal is to attract potential customers. That is why your seal has to be recognizable and distinctive. Our designers have made a lot of such seal templates, one of which is this pink
cool stamp
in shield form. This seal is suitable for individual entrepreneurs who run a business on their own. If you belong to this group, you may need a stamp to apply it to contracts, agreements, and other documents that you sign with your clients. The presence of a stamp will make the customers treat your company as a successful and developed firm, which works with thousands of clients all over the world. Now, let's examine the represented template. We will describe each component and give recommendations about the customization of this cool stamp. The main section of the represented template is the shield, inside which you can notice three inscriptions: "John Johnson", "AK" and "73/70657". The first one should be replaced with your real full name. After this, double-click on "AK" and type in your company name instead. If you don't want to put your name on a stamp, just replace the first inscription with the brand name, and delete the second one. The title at the bottom can be changed to your office location. Speaking of the decorative elements, there is a big wreath around the shield. It gives the stamp a round shape and makes it look complete. At the top, you can also see our website, which can be easily replaced with your own one.
Date of publication 2020-07-17