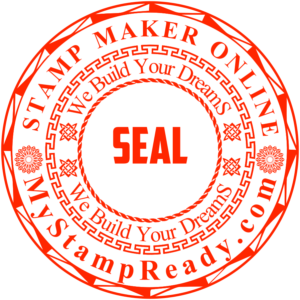 Make a unique stamp by using the services of our graphic designer. We guarantee a great result, a clear embossing of your documentation. It is possible to make a stamp online.
Work on red round rubber stamp with MyStampReady online service
Almost every business needs a stamp. The red circle-shaped stamp allows you to certify documents, sign agreements, get various statements, and submit reports to regulatory government agencies. The stamp consists of several circles. Immediately after the outer circle are red and white sectors, arranged in staggered order. These are followed by the 2nd circle, then the all-white sector. It is flanked by a figure resembling the sun. The 3rd circle is not solid, resembling the top of a tower in its shape. It is followed by the inscription "We Build Your Dreams" written 2 times, at the top and bottom of the sector. There are 2 stars on each side of the sector between the 3rd and 4th circles. The 4th circle resembles a weave in its appearance. It is the border of the center of the white print, where in the middle it says "SEAL" in red letters (the inscription can be changed at the discretion of the firm).
MyStampReady
allows you to
create a stamp from scratch
. It is enough to specify all the required stamp parameters using a special editor.
Date of publication 2020-07-26