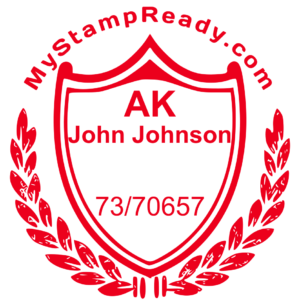 Our graphic designers will assist in the development of the original seal layout. The result of the activity is the execution of a stamp for staging on papers and documents. The work is done online from the client's computer.
Create a design for a round seal with a coat of arms for AK Jonson Jonson
Our specialists make a sample seal on client's order with any
stamp font
. An example of the work performed becomes the presented sample, characterized by a spectacular and laconic style of execution of each detail. The seal project can be used when making a ready-made seal for installation on cases and documents. The created seal project is convenient to use as a sample.
Stamp designs
posted on the site allow for additions and changes to the basic version. The company will give the prospect of saving money and time by developing a unique design in a variety of stamp font colors. Ready
rubber stamp
is required in every company activity, documents are signed with its help, paperwork becomes simple and easy, the need to enter information by hand is completely eliminated. Individual red shield-shaped seal with a unique coat of arms is designed for AK Jonson Jonson company. The client can make any necessary changes to the ready
stamp template
, make adjustments to the color scheme used. The development of the seal is made taking into account the individual brand of the company AK Jonson Jonson. It is worth paying attention to the details included in the sketch made in the form of a shield. Above the shield, the unique
MyStampReady
email address is indicated. When making changes, another email address and data is possible. A decorative image of a laurel wreath framing the shield with the name of the company is used to create the layout. A ready template will ensure the execution of stamps in the required quantity. Each option is based on the use of a ready-made sketch of the seal. Among company's offers different kinds of ready-made templates for
making seals
of different shapes offered by MyStampReady.
Date of publication 2020-07-17