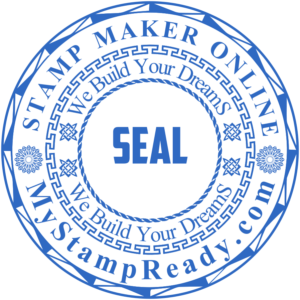 This custom seal for civil servants can be modified and personalized. On our website, you can immediately choose the stamp store near you to manufacture a custom rubber stamp using your layouts. MyStampReady allows you to download the seal in different formats for peanuts (starting from $2.5).
This ready-made stamp is available for editing and production in a stamp store near you
The represented ready-made seal can be used by companies, government officials or sole traders. It includes a website and a return address, combining much information with aesthetic design. MyStampReady stamp maker has a lot of different features that will help you in modifying this seal design, personalizing it for yourself, and choosing a stamp store near you to produce a rubber stamp. The round seal shape is the most popular one because it looks unobtrusive and harmonious in a document. Blue color does not mess with the text or distract your client from reading the agreement before signing it. Now let's look at the seal and examine its patterns. The first thing we notice is the inscription "SEAL" right in the middle. You can replace it with a company logo, or pull out one of the stock vector images from our gallery. Your logo will be separated from other components of a stamp by a circle, which is stylized as a thin rope. Moving further, you can see the slogan "We build your dreams", which was added to increase the clients' trust. If you've got your own catchword, you can edit this element. These inscriptions are enclosed in an ornament in the shape of a circle. The exterior layer includes an inscription "STAMP MAKER ONLINE" and a website. These 2 components are separated by two small round decorative elements. You should add your own website at the bottom, and replace "STAMP MAKER ONLINE" with a return address to receive fewer questions about your office location.
Date of publication 2020-07-26