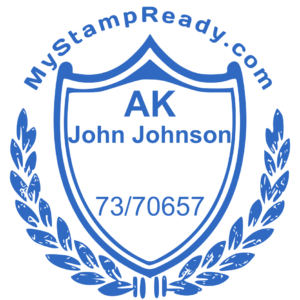 Edit this blue superior stamp in shield form, add your name and address and create a distinctive rubber stamp that will attract lots of customers as well as raise the reputation of your company.
Customize the represented superior stamp using MyStampReady stamp maker
The represented seal template was created for individual entrepreneurs who want to broaden their business and are planning to get a custom rubber or digital stamp to put on documents, contracts, and agreements. Our seal constructor allows you to edit each component of a template from the gallery in order to get an ideal product. Stamps for sole traders may seem useless, but that's not true. Even though they are not used that often and are seen by a few people, the presence of a seal on a document may affect their opinion about your brand, and after that, they will treat your company the same as major ones. As you can see, the cost of layouts is completely justified by the benefits that you will get after receiving a stamp. Now, let's examine this particular template more thoroughly and review each component. Inside the shield, there's some space for your name, and the address below as well. You can edit each inscription by clicking on it. If the full address of your office is too long, you may add another pattern above and start writing from there. However, the edge of a shield is not the outer layer. Around it, you will notice the inscription "MyStampReady.com" and a big wreath at the bottom. It's a nice idea to change our website to your own one. By the way, if you want the seal to be totally confined, try adding a circle around these two components. If this design is not what you're looking for, you should definitely check out our other seal templates from the gallery.
Date of publication 2020-07-17