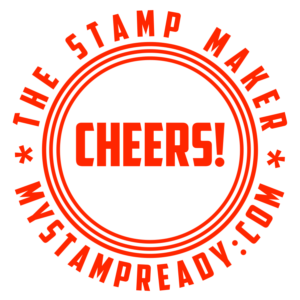 Click the seal template above and edit it as you wish. MyStampReady stamp maker has many useful features: you can add inscriptions around the perimeter and in the middle, insert a company logo, try different decorative elements, etc.
Customize the represented template and create a red wax seal
After you're done, you can cheaply download the layout and order a red wax seal, or a rubber one.If you are manufacturing high-quality goods that require a handsome package, we recommend ordering the red wax seal, and developing its design using this template. The wax stamp will make your product unique and attract more customers. Even though wax seals are a bit difficult to use and cannot be applied to documents, they emphasize the quality of your products or services and show that you get creative in your approach. Actually, using both (rubber and wax) stamps is the best option. They won't cost a fortune but will give your brand an effective promotion. Let's look at the seal template above, and review each component. In the center, you can see an inscription "CHEERS!", which, most probably, will be replaced. Instead of it, you may put a company name, pull out a company logo from the gallery or choose one of the vector graphic signs from our list. This pattern is enclosed in a triple circle to make the whole composition look more complete. The outer layer consists of two inscriptions: "THE STAMP MAKER" and "MYSTAMPREADY.COM", which are divided by two star-shaped decorative elements. "THE STAMP MAKER" can be substituted by a simple slogan or just the type of your company, and it'd be a great idea to replace our website with your own one.
Date of publication 2020-07-17