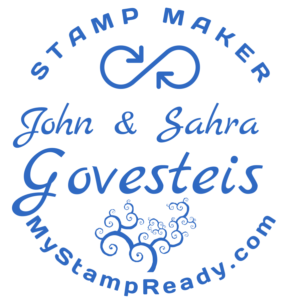 This ready-made template will help you create a custom wedding stamp for stamping your invitations or other documents related to the wedding. MyStampMaker offers a huge variety of features for editing, so you can modify the seal as you like.
Edit this custom wedding stamp design with MyStampMaker
A round stamp is definitely the most popular shape. In the case of marriage, this blue
custom wedding stamp
will perfectly fit into invitations for your relatives and friends, or apply it during some wedding contests. Anyway, if you already know the purpose for creating a seal design, it's worth using our stamp maker for editing this sample and get the perfect stamp. After having the ideal layout, you can download it from $2.50. Let's examine the patterns of this particular stamp design and find out what parts of it can be edited. In the middle there are two inscriptions: "John & Sahra" and "Govesteis". Obviously, you should replace the first one with your real name. The second inscription may be replaced by a sort of slogan or a phrase. Try to be creative with this one in order to make the seal more informative. This stamp includes two signs: the infinity sign at the top, and the tree at the bottom. We recommend leaving these components unchanged, because their absence will cause the seal to look empty. The featured design is completed with the inscription "STAMP MAKER" and our website at the other side. It is a nice idea to replace "STAMP MAKER" with "THE BRIDE AND THE GROOM" or something similar to this. If you have a blog or your own business, you can replace our website with yours. If not, then you can leave it as it is, or again, come up with a simple slogan.
Date of publication 2020-07-17