Decorative wedding stamp with logo of round shape for invitations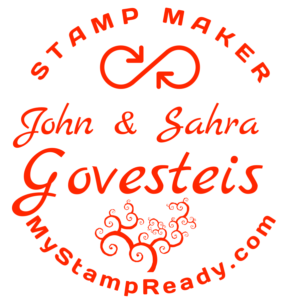 Celebrate your special day with an original wedding stamp. Use our online stamp maker to create a beautiful design for your future seal and decorate your invitations.
Wedding stamp is an interesting idea for your Big Day. There's no better way to make your special event memorable and unique. Work on the layout for your future seal using multiple tools and instruments on MyStampReady. The process of creating sketch in our stamp generator is simple and won't take a lot of time. This round stamp was designed for a wedding day of Mr. and Mrs. Govesteis. If you like this style, you can change the personal names of bride and groom and add your own ones. As you can see, the fonts differ from standard and official ones and looks original. It's possible to modify it as well. Moreover, there's also a possibility to alter the size of text. The layout for your future wedding stamp will be neat and beautiful anyway. There are two logos on this template. The first image is the symbol of infinity, which stands for eternal love of affection of the couple. The second image is a blossoming tree, which might mean that the relationships are strong. However, you can delete these images and add another logo your layout. MyStampReady offers a vast collection of ready-made images suitable for any occasion. They will give your custom stamp a touch of individuality. Our stamp maker allows users create interesting and unique designs. There will never be two alike projects, as each person is working on the sketch himself. Such an activity can also be a nice pastime for a couple, when sitting together and choosing the most beautiful elements and patterns. For example, John and Sahra, who made this custom seal for their wedding, decided to make their sketch of orange color. You can choose between different color of your layout in on mystampready.com. 
Дата публикации 2020-07-17