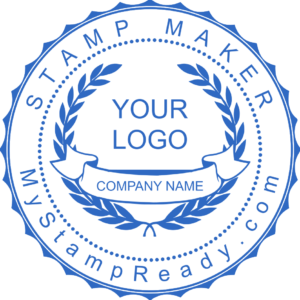 Personalize this seal template using the online stamp maker, add the company's logo in the middle and get the layout of your future wax stamp in the highest possible quality.
Configure a unique design of wax stamp with the stamp creator
The design you see above can be used as a sample for a rubber stamp or a
wax stamp
, depending on whichever type you would like to use in your company. Actually, the best option is to order both stamps for all cases. If you want the seals to be different, you can check out other designs in the MyStampReady gallery. While rubber stamps are mainly used for approving documents and other papers, wax stamps can be used in office circles or at certain important events. When you order a seal template from designers, you cannot monitor the process and you never know what to expect. MyStampReady offers you the ability to completely control the creation process and get the design for peanuts. Now let's analyze this stamp and define its components. This round seal has room for your company logo right in the centre of a composition. Under the logo is also a wreath, symbolizing the success and prosperity of the company. This part of a seal is enclosed in a punctuated circle. Outside it, you can see the inscriptions "STAMP MAKER" and
"MyStampReady.com"
in large font sizes. We recommend replacing the upper label with the name of your brand, and mentioning the official website below. In the editor, you can delete all the unnecessary parts and replace them with your own ideas.
Date of publication 2020-07-17