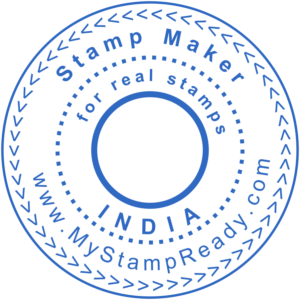 Use a ready-made layout of a wax seal stamp in blue to create a unique design by personalizing the inscriptions and other details in the stamp editor.
Edit the project of your wax seal stamp design online
The represented seal can be used by civil servants and bureaucrats, but by changing the patterns, the signature can also be suitable for marriage agencies, for personal use, etc. MyStampReady offers a user-friendly interface, as well as cheap prices for layouts. A wax seal stamp is not used for stamping documents and contracts, but it looks nice on an envelope and some craft products. This kind of stamp perfectly emphasizes the status and fame of the person who puts it. By the way, this template may be used for creating a round-shaped rubber stamp as well. You can experiment with combining the components of a layout and come to the best arrangement. In the stamp creator, you can modify the stamp up to unrecognizability, and it doesn't require any knowledge in the field of design. So, now let's look at the seal design thoroughly and examine its patterns. In the center, there is a bit of empty space decoupled by a thick circle, inside which you may put your company's logo, or take one of the ready-made images from our gallery. In the second section of a seal, you will notice two inscriptions: "for real stamps" and "INDIA". Alternatively, you can indicate a kind of a slogan on top, and change "INDIA" to the country you live in. This unit is limited by a dotted circle. On the outer layer there is a title "Stamp Maker", and a website address at the bottom as well. It would be a great idea to mention your own site on the seal, and to put the company's name instead of the "Stamp Maker" inscription. At the edges, there is a pattern made of greater than signs, which gives the composition a look of fullness and completeness.
Date of publication 2020-07-17